** I have created the pager below to explain Search Funds to people who are not yet a part of the community, so it is probably not news to any of you. I would be happy if you find it a useful tool, and would be grateful for your comments/insights. -Mikey **
A quick intro to the raising asset class of Search Funds - an investment vehicle in which 1 or 2 entrepreneurs ("searchers") raise money from a group of investors to search, acquire, manage and sell a company.
The vehicle is similar to a one-time private equity fund, and comprises of 5 phases: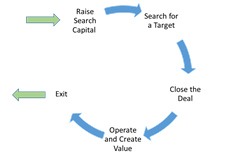 The searchers: [i] raise first round of capital of about $500k to fund the search [ii] search for 1-2 years for a cash flow company in a simple, stable industry [iii] find a company that is agreeable to the investors, complete due-diligence, raise a second round of capital (preferably pro-rata from first-round investors), and close the deal in debt and equity [iv] assume management positions, operate and grow the company [v] sell the company, generating value for the investors and entrepreneurs.
The model was developed in 1983 in Stanford business school (GSB) and close to 300 funds have been raised since. The search fund model is attracting attention because it returned an average ROI of 35% (with preferred equity to investors), presents optionality for the investors (a "call" option - the investor sponsors the search, but can choose whether to buy into the company), and gives exposure to various industries without having to do the legwork.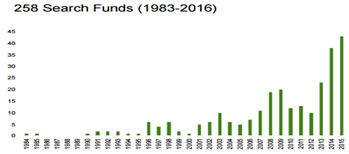 Deal Data (companies bought, excluding search process):
1) Median EBIDTA = $2.2M; Revenue $9M (25% margin); Purchase price $11M (X5 EBITDA) [In the latest Stanford study EBITDA multiple is approaching X6]
2) 53% of deals yield positive returns (see distribution in chart)
3) Main reasons for value destruction – (i) low industry growth (ii) over-complex operations (iii) execution failure (iv) bad dynamic between searchers and investors (v) conflict with previous owner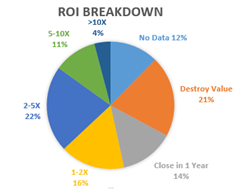 Searchers Data:
a) # of searchers – 50% single searchers, 50% in couple; 95% men
b) Median age is 31, 80% of searchers are 1-3 years after their MBA
c) Background from private equity, investment banking, general management and consulting
Search-Fund Data:
I) Common industries – Services (including retail, B2B, logistics), IT and Healthcare
II) Average capital raised to search - $420k; average number of investors – 15; average time to raise first round (search capital) – 4 months; average equity per searcher - 20%
III) Average time from first round raised to deal closed – 18 months; average life cycle of a fund – 8-10 years [0.5 years to raise first round, 1.5 years to close, 5-7 years to operate, 1 year to sell]
###
Would be happy if you could share your knowledge on #SearchFunds, feel free drop me a line:
https://www.linkedin.com/groups/###-###-####
Or connect on LinkedIn:
https://www.linkedin.com/in/michael-gallant###-###-#### /
Sources: INSEAD Realizing Entrepreneurial Potential course material, by Prof. Ivana Naumovska, based on Stanford GSD 2016 Search Fund Study.
###