SEARCH FUNDS FROM FUNDING TO EXIT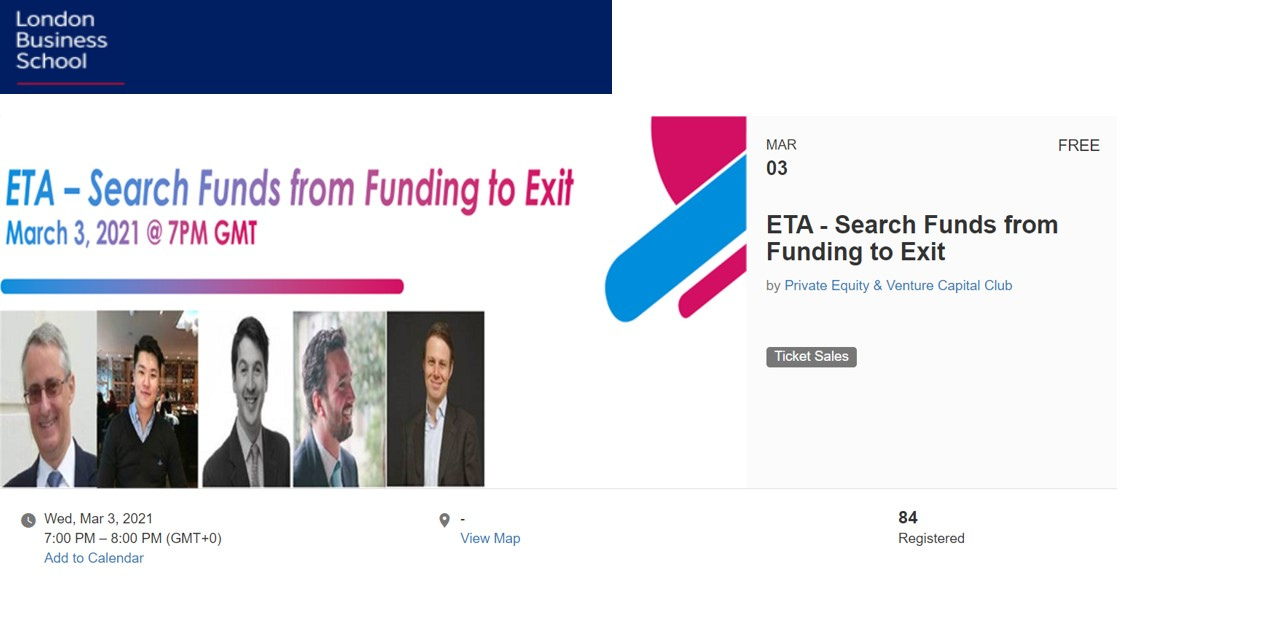 Search Funds from Funding to Exit - Hosted By Private Equity & Venture Capital Club - London Business School
We are super excited to announce the first ETA event of the year 'Search Funds from Funding to Exit'. Our speakers have been galloping across all stages of a model ETA – Fundraising, Searching, Running the Company and Exiting! Join us on Wednesday March 3 at 7pm GMT and hear from:
1. Simon Webster – Host (LBS MBA1991): LBS ETA faculty, founder of the FIRST EVER Search Fund in Europe and fifth globally! Simon is now a serial investor in search funds.
2. Daniel Yu (LBS MBA2020): ex-investment banker and venture capitalist who has just raised his search fund Dymond Cap.
3. Patrick Boulter (LBS EMBALJ2017): Previously in UK military, ex-consultant and start-up founder who is two years into the search BlueKnot Partners.
4. Alex Tuya (LBS EMBALJ2017): Previously an IT Director at Burberry, Alex is the CEO @ Page Bros and is three months into entrepreneurship through BlueKnot Partners.
5. Tobias Raeber (MSc, Economics & Innovation and Tech Mgt.): Ex-Oliver Wyman consultant who has recently exited Geschäftsführer as an entrepreneur through his search fund ETApreneur.com.
Link
http://e.cglink.me/2ka/r34133