WOULD ANYONE SHARE HOW THE BALANCE SHEET CHANGES WITH ACQUISITION?
Hi SF community,
I am doing some forecasting with a Business model I've been dealing with. I have the Balance sheet and Income statement and is with the balance sheet I encounter more doubts in the moment of acquisition.
1. How would the shareholder equity change? Imagine you get a $1M financing and you put that into Long term debt in the BS. The equity would need to go down to compensate for the increase in the liabilities and equity vs the assets, Is this correct?
I have an example where you can see before and after the acquisition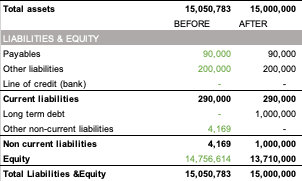 2. It is also my understanding that the company is sold cash & debt-free. How would be reflected in the balance sheet? Just 0 in the current liabilities and in cash?
Does anyone have some material related to general changes in the balance sheet on acquisition??
Many thanks to all in advance.