2022-10-19T18:00:00+00:00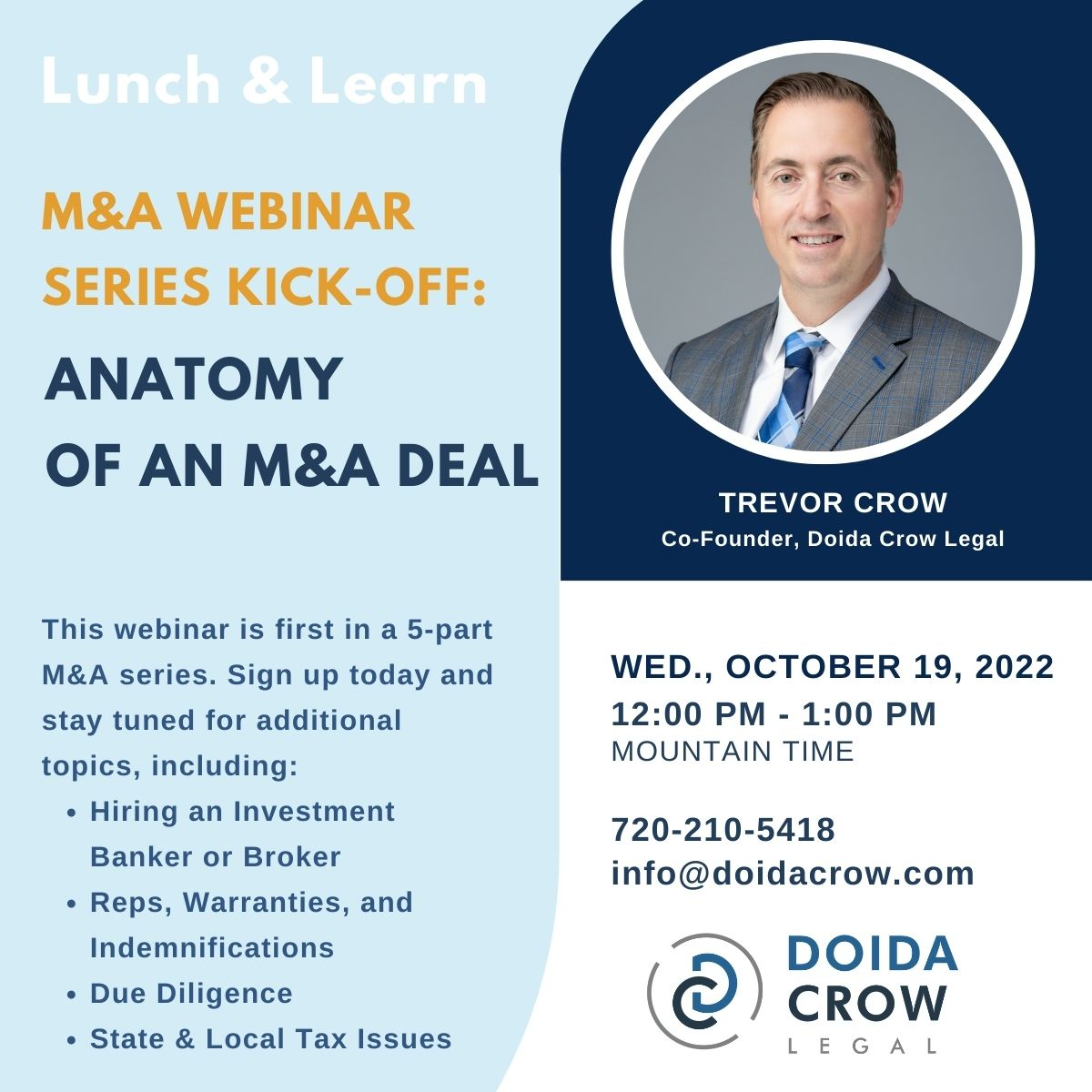 When selling or buying a business, process is paramount. Our firm counsels clients through the complexities of M&A and we problem-solve instead of merely identify roadblocks. Join Attorney Trevor Crow as he offers valuable insights and explains the most important aspects of an M&A deal process, including outline of an M&A, strategy development, key players and building your team, valuation, and typical deal killers that can arise.
WHEN: Wednesday, October 19, 2022 from Noon to 1:00 pm, Mountain Time
WHERE: Free Webinar via Zoom
REGISTER HERE:
https://us02web.zoom.us/webinar/register/###-###-#### /WN_iL5aDfWQS_OwbF0RmniIvw
Who Should Attend:- Business Owners- Entrepreneurs- Investment Bankers- Business Brokers- CPAs and Tax Professionals- Attorneys
This is first in a 5-part M&A Webinar Series. Sign up today and stay tuned for future topics, including:– Hiring an Investment Banker or Broker– Reps, Warranties, and Indemnifications– Due Diligence– State & Local Tax Issues in M&A
ABOUT DOIDA CROW LEGAL
Doida Crow Legal is a preeminent M&A law firm that can provide your business with a complete range of corporate legal services to help you achieve your goals and protect your company. We offer qualified new clients a 45-minute complimentary consultation to dive deep into your corporate matter.
Learn more:
https://www.doidacrow.com/about/
For more information or to RSVP, please
sign in
.