VIRTUAL PANEL EVENT - SEARCH FUNDS IN COVID TIMES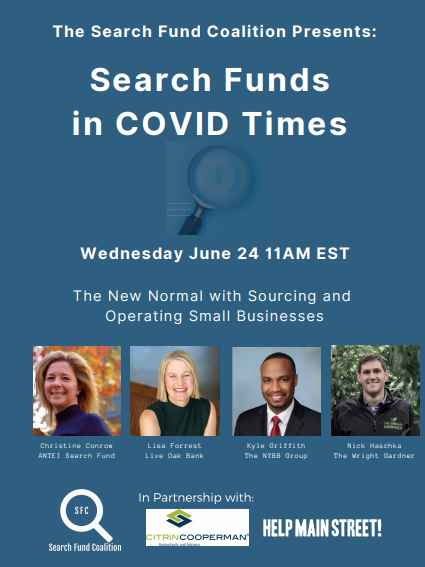 Hey Community!
We've got an exciting networking panel coming up.
Bringing together some of the best minds in the entrepreneurship through acquisition community to bring you an honest, transparent conversation around how COVID-19 has affected small business entrepreneurs and the search fund ecosystem.
Topics being covered: Financing in the New World, How Searchers pivot, What to do with PPP, what is a seller's perspective
Powered by Search Fund Coalition
Expert Panelists
Christine Conrow Lisa Forrest Kyle Griffith, CBI Nick Haschka
Join us virtually on June 24th at 11 AM EST — registration link

https://searchfundcoalitioncovidtimes.splashthat.com/