Chances are you have friends and colleagues who could benefit from being part of the Searchfunder.com community. Now being good to your friends provides a dollop of goodness for you. When your friends and colleagues sign up on Searchfunder, you will receive 1 month's worth of access credit. Below is how to do it.
Option 1:
Check the bottom of an email you received from Searchfunder for your referral link or search your email box for https://www.searchfunder.com/?refer= to get the remainder of the link.

Option 2:
1) Click the Main menu ► located next to your profile pic
2) Click Account and then billing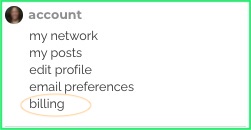 3) Click Subscription
4) Click Refer a Friend to receive your individualized referral link.
5) Send your link to your friends and colleagues.
Your friends must (i) use this link and (ii) complete registration to earn the referral discount. You both automatically will receive a message that confirms your discount.