THECO - ENTREPRENEURSHIP THROUGH ACQUISITION KICKOFF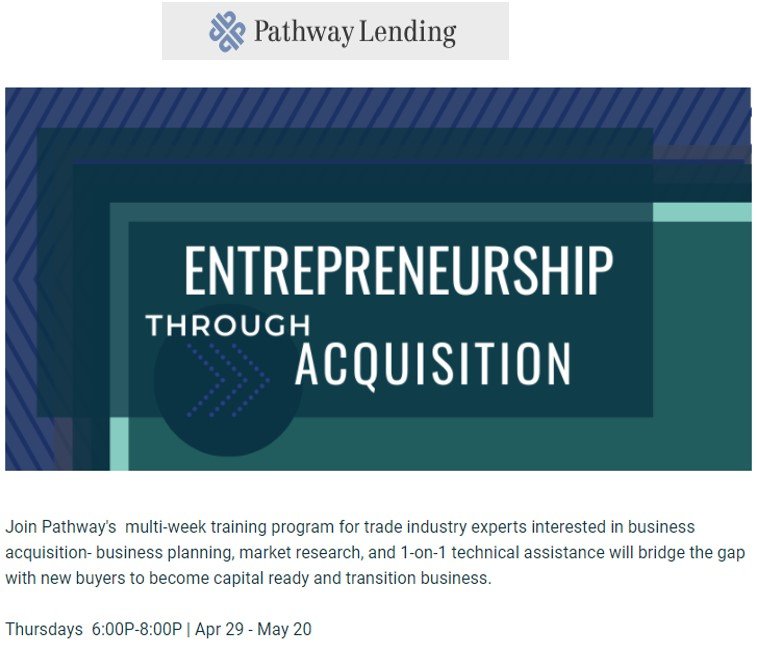 Thursday, May 6, 2021
6:00 PM - 8:00 PM
Join Pathway's multi-week training program for trade industry experts interested in business acquisition- business planning, market research, and 1-on-1 technical assistance will bridge the gap with new buyers to become capital ready and transition business.
Who should enroll?
Aspiring mid-career entrepreneurs with business management, trade or industry experience
Professionals considering purchasing a Tennessee business
What is the Cohort?
Overview of business planning
Market research
Finding and vetting a business
Mentorship
What does it cost?
As a pilot cohort, we charge a discounted fee of $100.
We know some participants may find the fee prohibitive and have scholarships available. To make a request, do not complete the registration form. Instead, please email [redacted] with your requests.
https://www.pathwaylending.org/buy-to-start-2021-jackson/
https://www.attheco.com/events[redacted]entrepreneurship-through-acquisition-kickoff