SEARCH FUND CONFERENCE - 2ND LATIN AMERICAN IPADE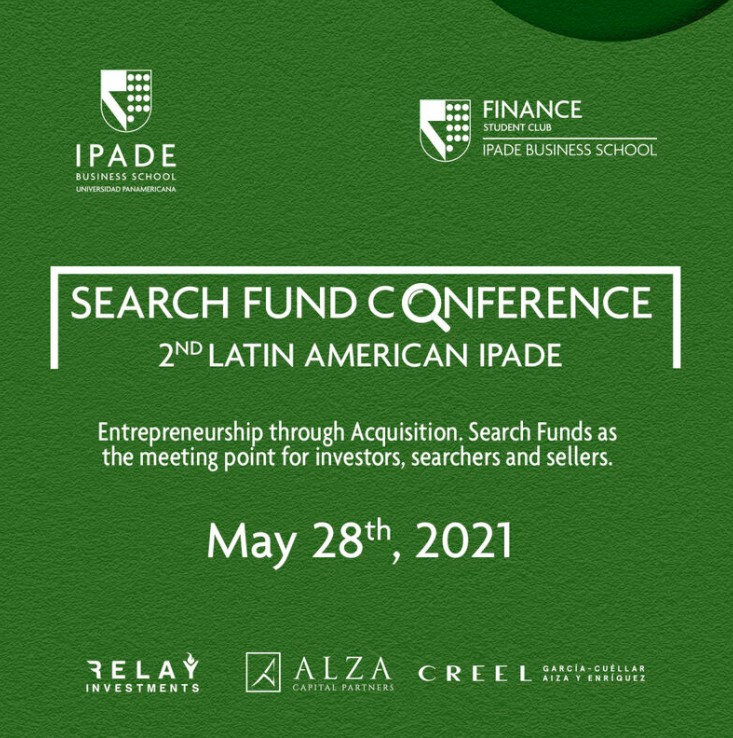 Search Fund Conference May 28th[redacted]9am-3pm Mexico City Time CST)
Entrepreneurship through Acquisition, Search Fund as the meeting point for investors, searchers and sellers with the presence of Relay Investments, Alza Capital Partners and Creel Lawyers
4 Conferences
1 Panel
Networking Event
The IPADE Business School Finance Club invites you to participate in the Search Funds event that will be held on Friday, May 28 from 9 am to 3 pm where we will have 4 conferences, a panel and a networking event where we will have the presence of market leaders such as Alza Capital, Relay Investments and Creel.
This is a world-class event where entrepreneurs, investment funds and searchers (who are looking for target companies to acquire) meet in a forum to exchange ideas, learn about the advances of the industry in our region and build a network with which to eventually carry out operations using this investment vehicle. The IPADE forum is the meeting point of the Search Funds industry in Latin America such as Harvard and Stanford in the United States as well as IESE in Europe.
Registration link:
https://lnkd.in/ebGbeNA
It will be a pleasure to have your presence!