2022-07-28T15:00:00+00:00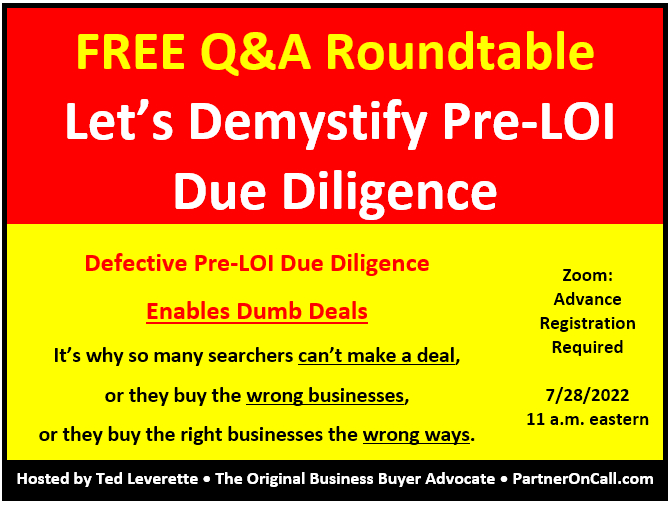 Let me know, by providing your email address, if you want a link to the recording of this event. (Limited time offer.)
Don't let this happen to you: "Thanks Ted. Just replying to your email to take you out of my spam folder. Also, I can't find the link to join the meeting."
Please whitelist my email address: --@----.com You use Gmail? Add me as a contact. Often, my email goes into spam folders (especially Gmail) due to the business opportunity topics.
This means, when you email me or sign up for my online events, you may not get my replies, especially if you use Gmail.
Besides me, guest presenters:
Dan Precourt (Searcher)
David Barnett (Dealmaker)
Nancy Fallon-Houle (M&A Lawyer)
To protect the anonymity of people attending my Zoom conference, I will not share the video of the event.
Defective Pre-LOI Due Diligence Enables Dumb Deals. It's why so many searchers can't make a deal, or they buy the wrong businesses, or they buy the right businesses the wrong ways.
Go here to see the evolving list of questions people are asking:
https://partneroncall.com/prep-not-pre-loi-due-diligence/
Sign up now for this free one-time, small group, Zoom meeting.
Registrants can submit questions or comments before the event to assure coverage.
Required: Advance registration (passcode for entry).
This event is free. Otherwise, private, individual, consultations at $250/hr.
Hosted by Ted Leverette, The Original Business Buyer Advocate ®, PartnerOnCall.com
For more information or to RSVP, please
sign in
.