2021-10-26T15:00:00+00:00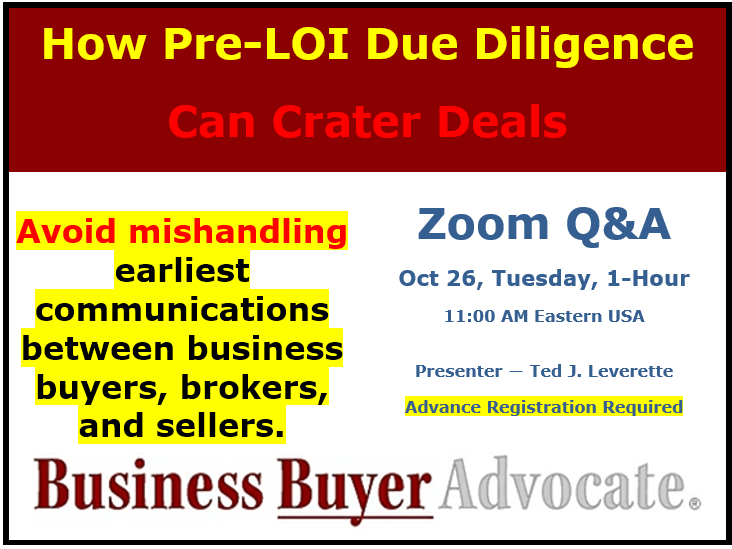 (82 registrations so far.) This is NOT a livestream. Use the link to pre-register for Q&A with Ted Leverette, The Original Business Buyer Advocate. Buying a business? Too many deals fall apart before the LOI / HOT (or upon submission of it) because of the mishandling of the kinds of due diligence that happens early in the communications between buyers, brokers, owners, and sellers. And sometimes lenders. And maybe, thanks to lawyers and accountants.
It's more likely you'll buy the right business the right way (sooner and at less cost) if you adequately conduct preliminary due diligence. It usually precedes submitting your LOI/HOT to potential sellers.
Preliminary due diligence helps you quickly screen business opportunities, so you can focus on the best of them. It answers your question: To what degree does this opportunity match my acquisition criteria?
Go / No Go. You're looking for deal killers and the genuine potential for improvement: Vulnerabilities, risks and the opportunities to make the company more efficient and profitable.
The reality is buyers either discover what they need to know before or after they buy a business. Before is better. Earlier is even better.
• What is and why preliminary due diligence?
• The expectations?
• The scope?
• The timing?
• The next step: LOI/HOT?
Pre-register, and then you'll get email requesting your questions, concerns, and comments for discussion.
https://us02web.zoom.us/meeting/register/tZIpcu-urTwqGdPWOEZLBC1K8KXPTikQal3d
For more information or to RSVP, please
sign in
.