2022-04-30T13:00:00+00:00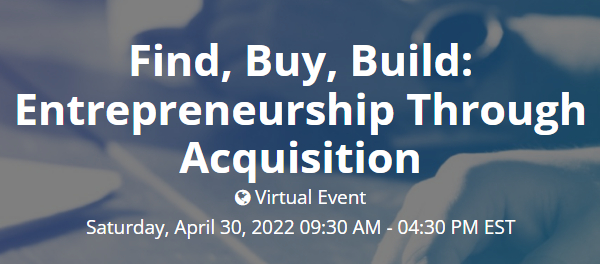 Who says the path to entrepreneurship means starting from scratch? Some would-be entrepreneurs are better suited for acquiring, operating, and scaling a fundamentally sound company than building one from the ground up. This all-day, hands-on boot camp will walk you step-by-step through how to get started in the exciting realm of ETA (entrepreneurship through acquisition). Plus, a dogged, first-time searcher and seasoned investor will walk you through the good, bad, and totally unforeseeable aspects of their recent deal.
There's never been a better time to explore ETA. It's estimated that there are more than 220,000 US businesses with sales between $5-50 million. More than half of these owners are over age 55 with no real succession plan and potentially looking for an exit.
See link below:
https://events.com/r/en_US/registration/find-buy-build-entrepreneurship-through-acquisition###-###-#### #newsletter
For more information or to RSVP, please
sign in
.