INTRODUCTION TO ENTREPRENEURSHIP THROUGH ACQUISITION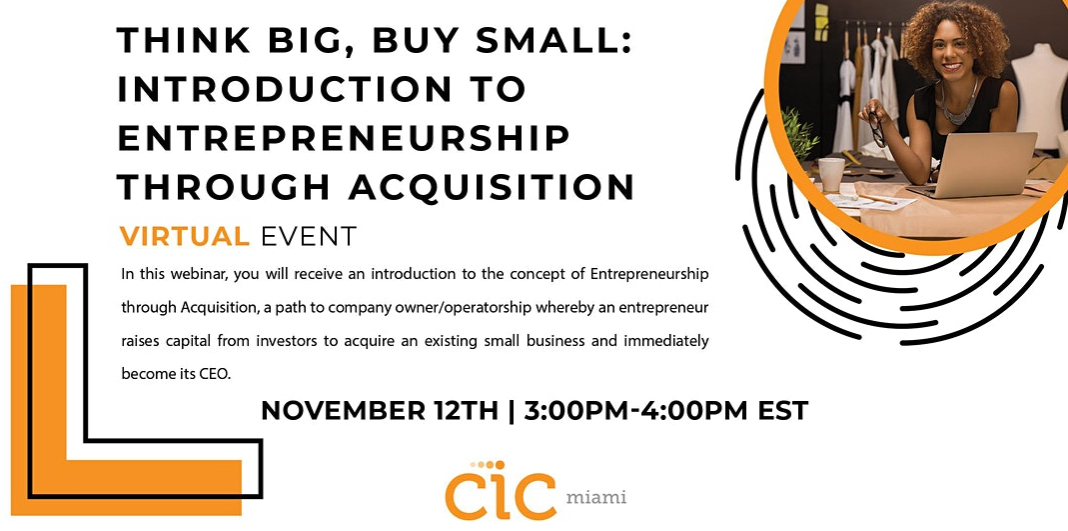 Think big, buy small!
Online Event
This webinar is an introduction to the concept of Entrepreneurship through Acquisition, a path to company owner/operatorship whereby an entrepreneur raises capital from investors to acquire an existing small business and immediately become its CEO.
Popularized at the Harvard Business School and the Stanford Graduate School of Business, "search funds" have grown in popularity immensely over the last decade, promising a fast-track to leadership for entrepreneurs and outsized returns for their investors.
No preparation is required for the session, but I encourage you to bring any questions you may have about the model or how it may be adapted to work for you and your professional goals. You can also review the latest research from the Stanford GSB.
About Natalia Ortega:
Natalia Ortega is currently pursuing Entrepreneurship through Acquisition via her search fund, One Legacy Capital (OLC). Natalia's search is focused on service businesses headquartered in Miami-Dade and Broward County with annual profitability between $500,000 and $2,000,000.
Prior to founding OLC, Natalia spent her career working in intrapreneurial divisions of large firms like General Mills and Univision Communications, driving growth through digital marketing programs. She loved rolling up her sleeves and solving new problems daily. After completing her MBA at Harvard Business School, Natalia launched OLC to pursue her passion of owning a business, one with roots close to home.
Natalia is Cuban-American and was raised in Miami by a family of small business owners. In her free time, Natalia enjoys running and playing percussion. Pre-COVID, she enjoyed traveling to explore unique corners of the world and new cuisines with her wife Erica. These days, Netflix and Blue Apron do the trick.
https://www.eventbrite.com/e/introduction-to-entrepreneurship-through-acquisition-tickets[redacted]