2022-03-03T19:00:00+00:00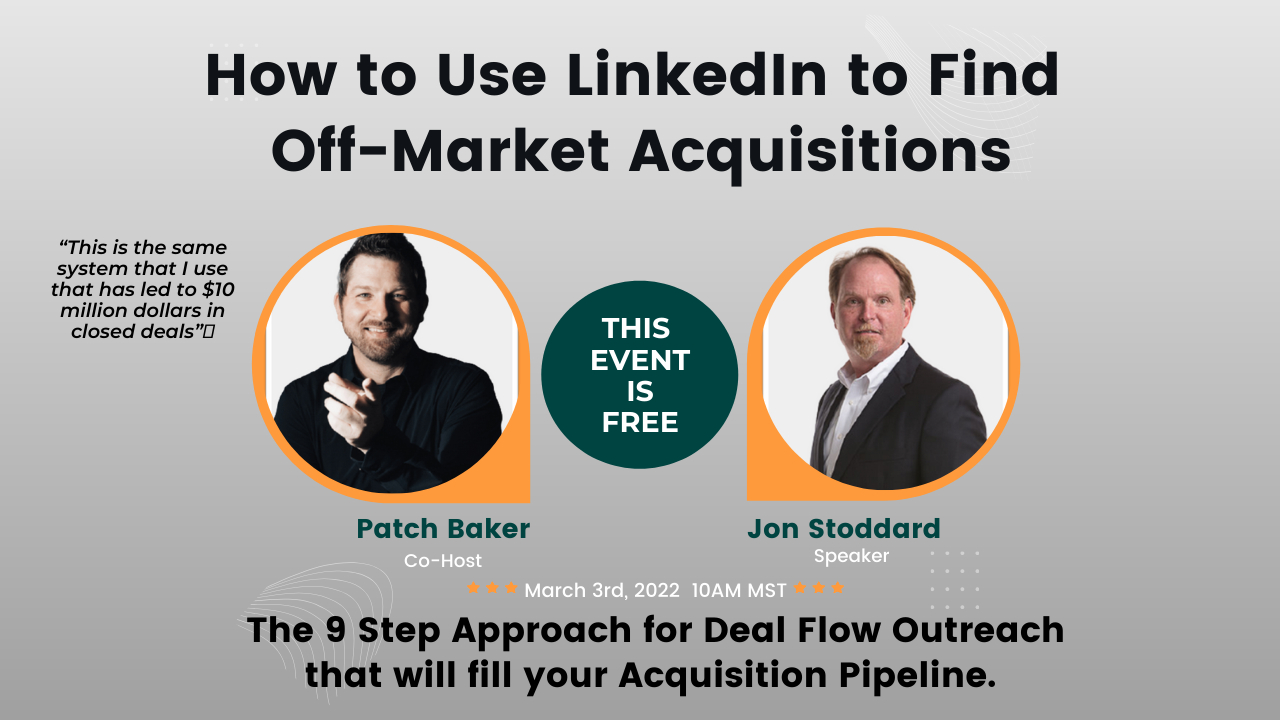 How to Use LinkedIn for Off Market Acquisition Deal Flow. Register Below
A 9 step approach for deal flow outreach that will fill your acquisition pipeline, provide you with more opportunities to make more offers to acquire a business than you thought possible."
Who this training is for:
1st AcquisitionIf you are new to the M&A game,you will learn how to create and fill your pipeline with business owners who want to sell their business.
10th + Acquisition(s)If you have years in the M&A world you will add another unlimited source to your deal flow.
Speaker and co-host Jon Stoddard
CEO of Stack Acquisitions - acquire and help other companies acquire
Host of Top M&A Entrepreneurs Podcast – guests have acquired 700+ businesses $60 billion in value20500 Followers / 20273 Connections on LinkedIn
Investor Acquisition Advisors – Reg A Crowdfund Raised for OTC companies > raised $100 Million ++CenturyHearingAids.com – Bought, rebuilt, sold on EmpireFlippers.com
Bought a Course Business – "How to be a Game Tester" – Shut it down
Intuit – Business Development – Learned QB Accounting
Turbo Squid – Cofounder, $5mm VC funded Marketplace – sold to Shutterstock
Northern Arizona University – Electronic Engineering
USAF
First Acquisition bought a calf for $90 sold it for $1000
Co-Host: Patch Baker USMC Veteran
Investor
Coach for Roland Frasiers EPIC
President & CEO of Mobius Media Solutions
Chief Marketing Officer HERO Beverage
Chief Marketing Officer Leatherback Gear
Partner at American Dream U.
Currently owns 40 companies
Has acquired over 109 Businesses
Consulted with over a dozen Fortune 100 Companies
Register Below on LinkedIn
https://us06web.zoom.us/meeting/register/tZwrde2srD8pHNyXOGURp4L_MDfpt4ZR2Yh6
For more information or to RSVP, please
sign in
.