2022-02-03T17:00:00+00:00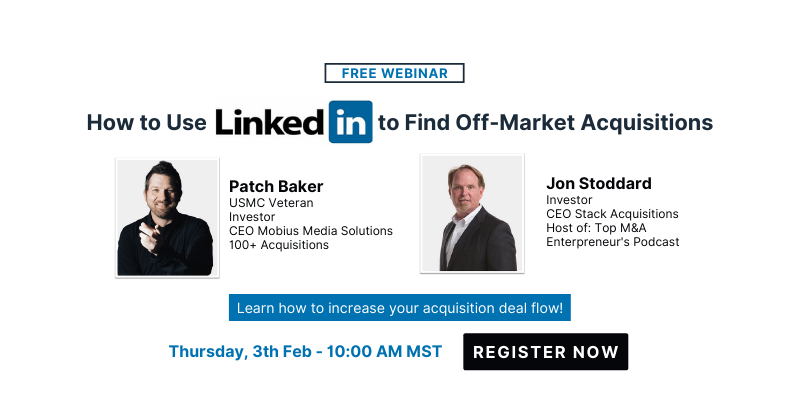 Deal Flow, Deal Sourcing is the hardest part of the Acquisition Game
Acquiring a company is a numbers game. You need, at minimum, 100 Outreaches, 60 Responses, 10 Conversations, 5 Offers to get to 1 to 2 Deals.
This training you will Learn how to increase your acquisition deal flow using LinkedIn!
We will show you How and Why you need to...
1. Create a great profile
2. Get on LinkedIn Sales Navigator Now
3. Launch a new company
4. Post Classified Ads in your feed
5. Post in, Network in Groups
6. Create Content Regularly
7. Follow, Like, Comment other people
8. Getting on Podcasts
9. And finally, Create an Event to Share Value
Plus Tools You need to use, and ones you should not be using.
Plus, Scripts to use with your outreaches - same scripts I use today
Event link
https://us06web.zoom.us/j###-###-#### ?pwd=TzVETTU3emFMQUpPblFQYjU0eWY4QT09
For more information or to RSVP, please
sign in
.