HOW TO BECOME AN ENTREPRENEUR WHILE SIDESTEPPING THE STARTUP GRIND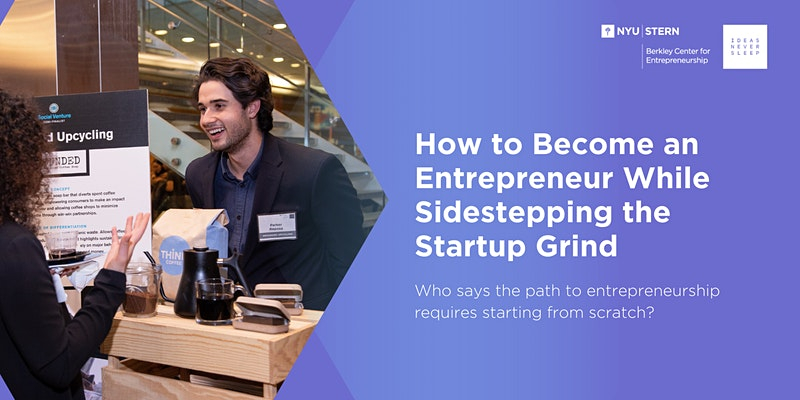 Who says the path to entrepreneurship requires starting from scratch
Click here to register:
https://www.eventbrite.com/e/how-to-become-an-entrepreneur-while-sidestepping-the-startup-grind-tickets[redacted]
Please note that this event will be held remotely. Zoom details will be sent to participants the day before the event.
About this Event
Who says the path to entrepreneurship requires starting from scratch?
Join the Berkley Center for an exciting panel discussion on how acquiring an existing high-potential business can lead to financial reward bypassing traditional startup headaches.
Get tips on how to:
Find and evaluate acquisition targets
Make the leap to ownership from a corporate job
Raise money for your purchase
Conduct due diligence
Negotiate with the seller
Meet our panelists:
Dia Simms, owner of Saint Liberty Whiskey and former president of Combs Enterprises
Dia Simms has managed, launched and led effective brand strategy initiatives for various industries. Most recently, Simms acquired a substantial stake in Saint Liberty Whiskey with her partner Erin Harris (HANDS LLC).
Steve Garrow, CEO, Rushmore Associates and director, Bouncing Back Foundation
Steve Garrow has launched, acquired, and operated companies across various industries during his career as founder and CEO. He is CEO of Rushmore Associates.
David Kantaros, partner, Foley Lardner
David Kantaros, as a partner with the law firm ofFoley Lardner, helps entrepreneurs in all facets of acquisitions, negotiations, operational issues and capital structuring.
Karen Spencer, co-founder & COO, Searchfunder.com
Karen is a co-founder and COO of Searchfunder.com, a growing online community for the niche business buyer called a search fund. Karen also consults and works hands-on with start-ups, non-profits and established businesses on business strategy, business development, marketing and legal strategy.