KELLOGG SCHOOL OF MANAGEMENT EVENT - HOW I BOUGHT THIS: JEAN-PAUL DESTARAC HOSTED BY JAISON THOMAS, SPONSORED BY ZELL FELLOWS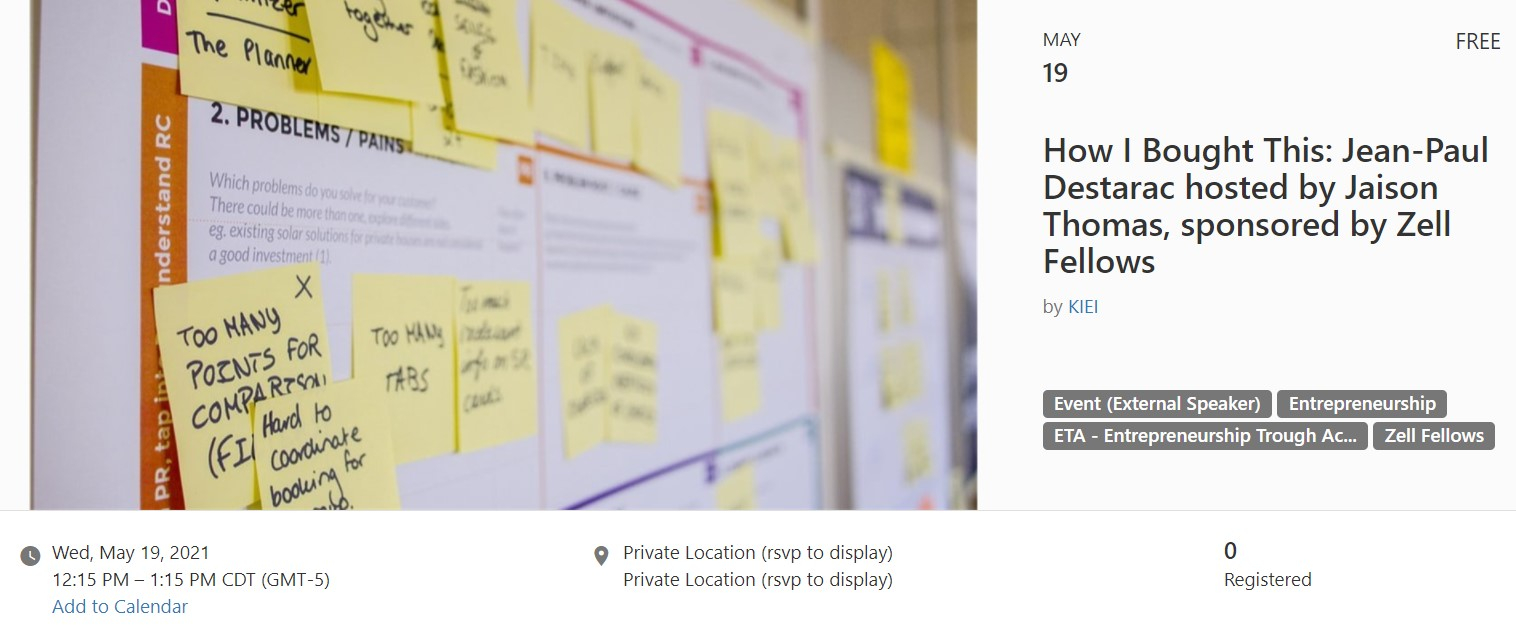 How I Bought This: ^[redacted]‌ hosted by ^[redacted]‌, sponsored by Zell Fellows
Wed, May 19, 2021
12:15 PM – 1:15 PM CDT
The Zell Fellows Program's Entrepreneurship Through Acquisition (ETA) track, is hosting a series of episodes of How I Bought This, modeled after the popular podcast, How I Built This.
For this session, ETA Track Fellow Jaison Thomas will host Jean-Paul Destarac. Jean-Paul is the current CEO and owner of Capin-Vyborny, a US Customs brokerage and logistics firm based in Phoenix, Arizona. Prior to his acquisition of Capin-Vyborny, Jean-Paul was the managing partner of NEXU Partners, a search fund based in Dallas, Texas. Prior to launching his search, Jean-Paul was the was the Deputy Head of Investments and Strategy for Stelac, a New York City-based investment advisory firm overseeing assets for ultra-high net worth families, foundations, and endowments. His interest in finance traces itself back to his undergraduate education, where Jean-Paul spent two years working at Merrill Lynch with the head of the Dallas office.
Jean-Paul earned his MBA from the IESE Business School at the University of Navarra and B.S. In Economics and B.A. in Markets and Culture from Southern Methodist University. Jean-Paul describes himself as Guatemalan-born, US-raised and European-MBA educated willing to learn and grow from those around him.
http://cglink.me/2dr/r1097688