ENTREPRENEURSHIP THROUGH ACQUISITION WITH HBS PROFESSOR ARCHIE JONES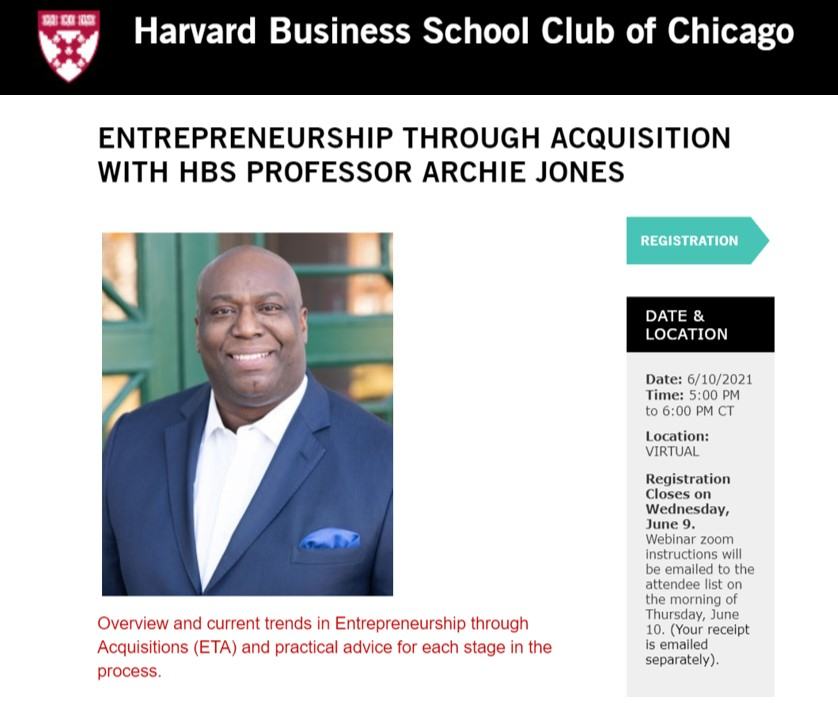 Entrepreneurship Through Acquisition With HBS Professor Archie Jones
EVENT DETAILS:
Date: Thursday, June 10, 2021
Time: 5:00 to 6:00 PM CENTRAL
Virtual: Zoom
The HBS Club of Chicago
Overview and current trends in Entrepreneurship through Acquisitions (ETA) and practical advice for each stage in the process.
SPEAKER
Archie L. Jones Jr.
Investor, Advisor, Educator
An increasingly popular route to success as a small business owner is through Entrepreneurship through Acquisition (ETA) with one of many ETA paths being a "search fund" — buying and running an existing operation. Entrepreneurs sometimes choose to forgo the traditional model of starting a business from nothing and instead focus on acquiring and operating an already established successful business. If you are interested in learning more, join us in a conversation with HBS Professor Archie Jones for an overview and current trends in entrepreneurship through acquisitions and practical advice for each stage in the process.
The HBS African American Alumni Association invites the HBS Club of Chicago
COST:
HBSCC Patron members: Complimentary
HBSCC Regular members: Complimentary
Non-members of HBSCC: $25
Please note that no refunds will be issued.
Registration Closes on Wednesday, June 9, 2021.
Upon registration, webinar zoom instructions will be emailed to the attendee list on the morning of Thursday, June 10.
http://www.hbsclubchicago.org/s/1738/cc/index2.aspx?sid=1738&gid=7&pgid=71999&cid=148924&ecid=148924&crid=0&calpgid=13&calcid=1334