2021-12-24T17:00:00+00:00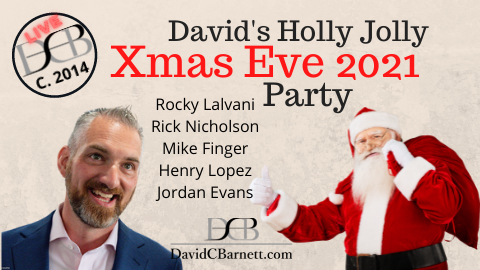 Come and hang out with me and some of my small business besties.
This year's guests include:
Rocky Lalvani, host of The Profit Answer Man Podcast and Richer Soul.
https://profitcomesfirst.com/
and
https://www.richersoul.com
Mike Finger, SME Exit consultant and blogger extraordinaire (Multiple Exits) over at
https://exitoasis.com/
Henry Lopez, investor, entrepreneur (Multiple Exits) and host of The How of Business Podcast
https://www.thehowofbusiness.com/
Rick Nicholson, restauranteur, investor, and Wizard of Ads marketing partner. (Multiple Exits)
https://www.linkedin.com/in/ricknicholson-wizard/
Jordan Evans, acquisition entrepreneur, investor (3X Acquisitions)
https://www.languagenetworkusa.com
We will discuss 2021 and what we expect for###-###-#### Come and join us live and ask your questions/share thoughts or catch us in replay over the holidays.
For more information or to RSVP, please
sign in
.