ANNOUNCING THE LAUNCH OF SEARCHFUNDER'S NUTS & BOLTS PROGRAM STARTING JANUARY 2022; APPLICATIONS DUE DECEMBER 1ST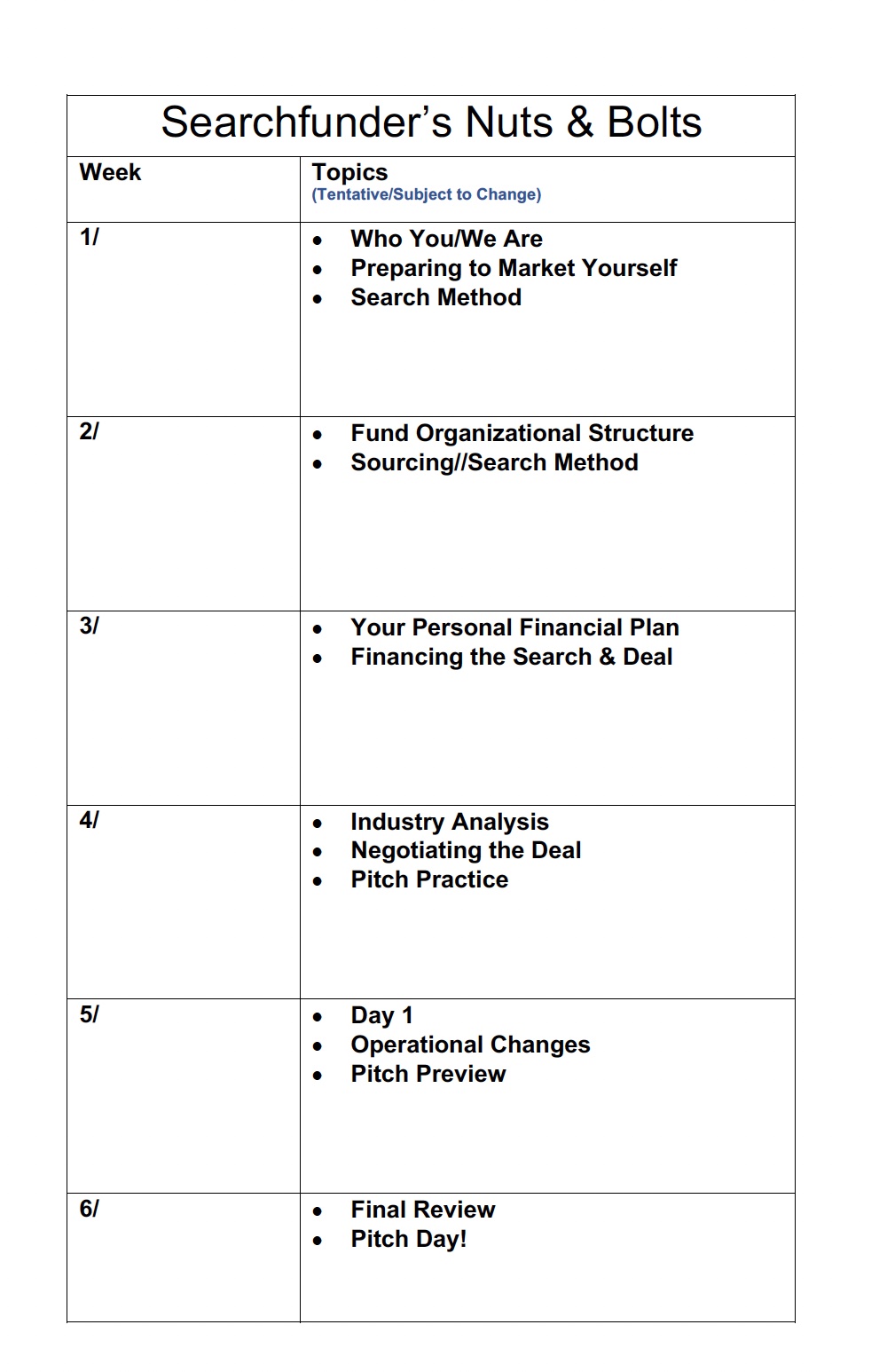 Springing from our People of Color, Women of Color, Women in Search and other meetups, we are proud to announce the launch of a new program on Searchfunder, called Nuts & Bolts, focused on potential searchers who are at least 1 year from a formal search fund launch. The goal of the program is to facilitate the groundwork necessary so that you're as prepared as you can be as you propel toward your launch date. Each month, you will cover an aspect of personal development and/or a tactical/practical aspect of search. You will leave the course with:
• a 3 to 5-minute narrative suitable for an investor when seeking funding or business owner to sell their business to you (your choice)
• your key concerns and next steps personally and professionally in launching your search with actions around financing, sourcing, branding/communications, etc.
• A diverse cohort of searchers for lasting relationships and information sharing
Details
The program is open to all who are exploring search and who are at least 1 year from a launch date.
For the inaugural program, we seek 30 students who are exploring search funds and entrepreneurship through acquisition.

For more details on the application process and program, please see this link for the syllabus
The application deadline is December 1st at 5 pm Portland Oregon time. Click here for the application form. Please email us at [redacted] if you do not have a gmail account to complete the form.
[redacted]

We hear regularly from Searchfunder members who desire to mentor others in a concrete way. Here is your chance!

Pitch mentoring --
We seek investors, CEOs and active searchers who are willing to act as mentors to students on their course project which is a 5 minute pitch for business owners or investors. The minimum commitment would be a 1 hour video or phone conference between April 23rd and May 21 to hear students' draft pitches, provide guidance on any blind spots, suggestions for improvement based on your experience.
Pitch day attendance

We seek investors, CEOs and active searchers to attend our final session where students will provide a 3 to 5 minute narrative statement directed to a business owner or investor on their search and suitability as CEO. You will be encouraged to provide supportive feedback to our students. (You do not need to be a pitch mentor to be an attendee).
Spread the Word
The program is open to all who are interested. We ask the Searchfunder community to make extra effort to spread the word among underrepresented communities such as black, indigenous and people of color in the United States and women entrepreneurs because their networks tend to be smaller and tend to rely on slower transmission methods such as word of mouth and person-to-person.