A FEW NOTES FROM THE INTERNATIONAL SEARCH FUND CONFERENCE AT IESE BARCELONA
Dear searchfunders,
The delegates have now returned to their respective searches after a good 2 days studying the search fund model. It was a pleasure for me to meet so many searchers and investors. I am pleased to have met a few wonderful people with whom I've started collaborating! Here are a few extracts from my notes from the first day. Please comment with your own learnings from that day and the following. How did the conference go for you?

"No now does not mean no never. Keep following up with your contacts, until their situation changes, and they are ready to sell

Most of my deals are proprietary. I only use brokers for companies in a bad shape, but I try to avoid competition". (Alberto Betancourt, Colombia)

"Watch your behaviour during fundraising; investors will infer from that what kind of manager you will be. Having dinner with them is a great litmus test."

"Never compete with private equity"' (Dr Thomas Bühler)

"If you are searching outside the US, it's always good to have local investors, who can advise you, leverage their network, and actually be present at meetings. "

"Practice your dealmaking ability with broker deals"(Fernando Guillem)

"It's currently a seller's market, multiples are crazy right now" (Mark Egan)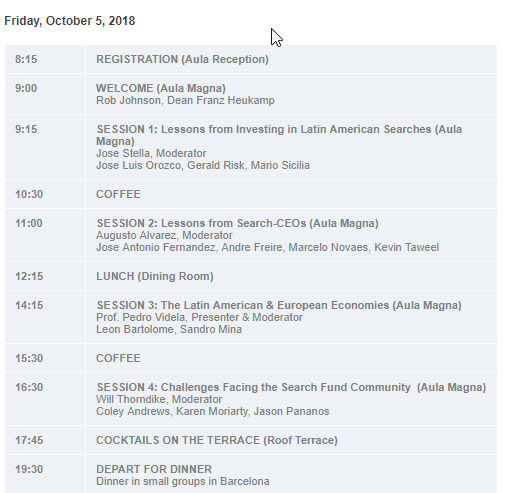 PS : I'm organising a London monthly Mastermind for searchers, as well as a FAME (database) masterclass. Please join the London group to know more.