2022-09-21T21:00:00+00:00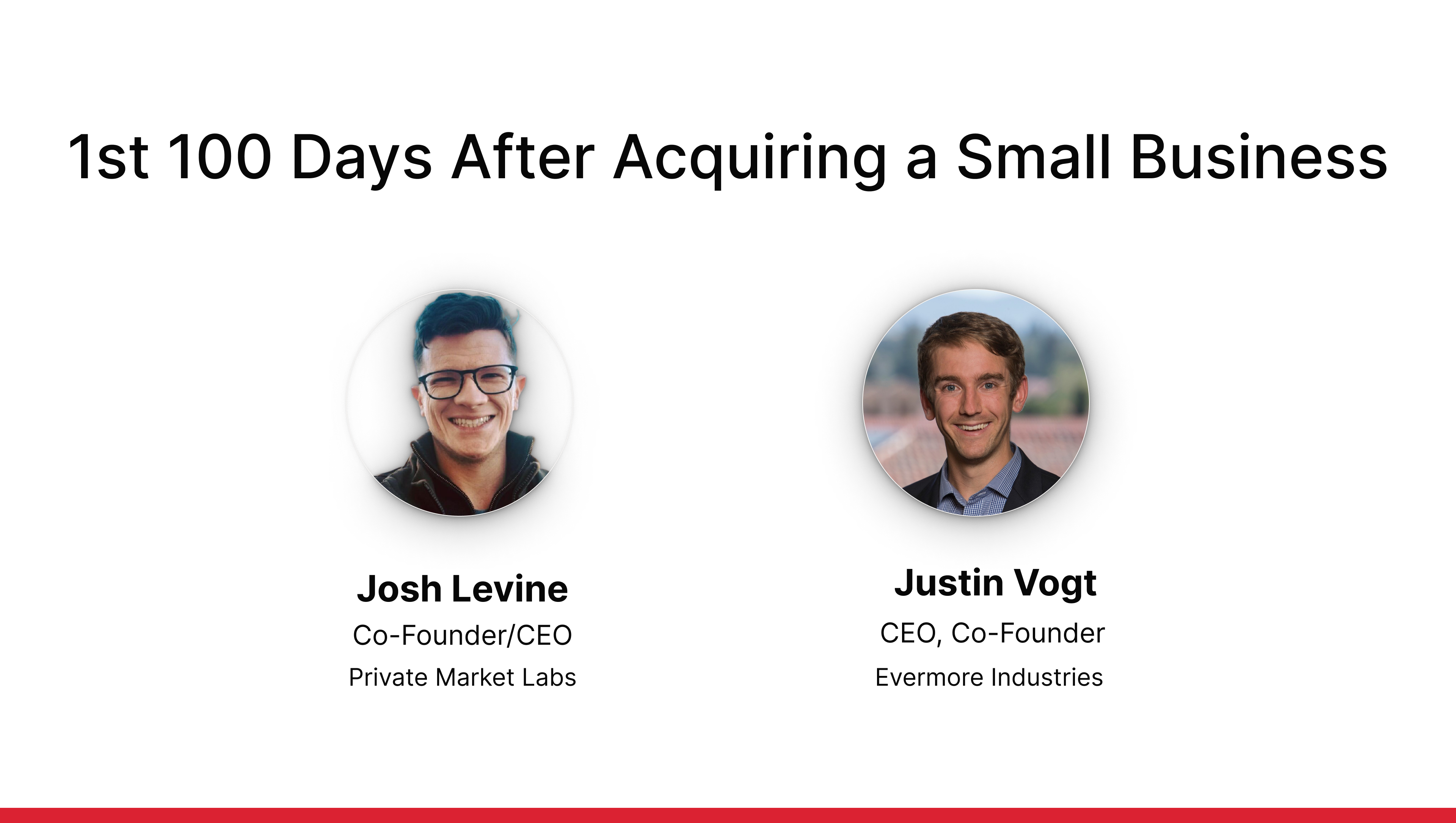 It's time to check out our next Private Market Insights event on Twitter Spaces, Wednesday, September 21 at 4:00 CT!
https://twitter.com/i/spaces/1rmGPkanPbyKN/peek
We're going to talk about the critical months following a business acquisition with Justin Vogt, an SMB Twitter regular, and someone who recently acquired a business and has gone through this phase.The first 100 days after an acquisition are extremely important to achieving the deal thesis a buyer set out with. It's a time of expectation setting and of relationship building. Every buyer should go into this time with a plan concerning each functional area of the business – HR, finance, sales, operations etc.We invited Justin to share his story of acquiring AVUITY and what were some of the learnings, both do-s and don'ts, from the first 100 days after closing on the deal.About our guest: Justin lives in Austin, Texas where he manages investment activities for Evermore Industries as well as serves on the Board of Directors at AVUITY. Evermore Industries is his holding company that partners with business owners to help them establish a plan for the next generation of their business. AVUITY uses hardware (sensors) and software to measure and help improve real estate utilization (mostly office space today). The business is based in Cincinnati, Ohio and was acquired by Evermore Industries in the spring of 2022.Before starting Evermore, Justin was an investor with Bain Capital Credit. Justin is a graduate of the University of Notre Dame and the Stanford Graduate School of Business.Join us on Wednesday, Sep 21, 2022 to learn more, ask questions and learn first-hand lessons from someone who recently acquired a small business.
For more information or to RSVP, please
sign in
.